Engage with your customers on your Shopify store using eDesk's Live Chat. Setting it up is easy, quick and customizable to suit your business - no need for developers or updating your Shopify settings!
This help file will guide you through setting up Live Chat for your Shopify store in 1 click.
---
Before you start
Learn all about how eDesk's Live Chat works here.

eDesk Live Chat is available as an Add-On. To find more information, click here.

You'll need to have access to Smart Tools → Widgets in your Settings. If you don't have access, request it from an Admin user within your business.

To set up Live Chat, you'll need an Admin login to eDesk. If you don't have an Admin login, you can request one from an Admin user within your business.

You'll need to have already connected your eDesk to the Shopify store that will offer the live chat. For more information on channels, click here.
---
01 Setting up eDesk Live Chat
To add eDesk's Live Chat to your Shopify store, you must first create, set up and customize a Live Chat Widget in eDesk.
The first step is to give your support agents permission for Live Chat. You can read more about permissions in eDesk in this article. 

Second, create a new chat Widget and then select your desired Shopify store when creating the widget. The chat Widget provides the buttons, chat box, and a contact form that will be on your store. You can customize it to match the branding on your website. Follow our guide on How to set up eDesk's Live Chat before you continue on.

Finally, we will guide you on how to add the chat Widget to your website or web store. This step is a bit different from the rest of the website or web store installations. More on this in section 02 below.

02 Implementing Live Chat on Shopify
Once you have set up your Widget and customized it using the instructions above, now you're ready to install it on your store! 
In the
Installation
tab in your Widget settings, you'll see an option to "
Install now
" in the top right corner.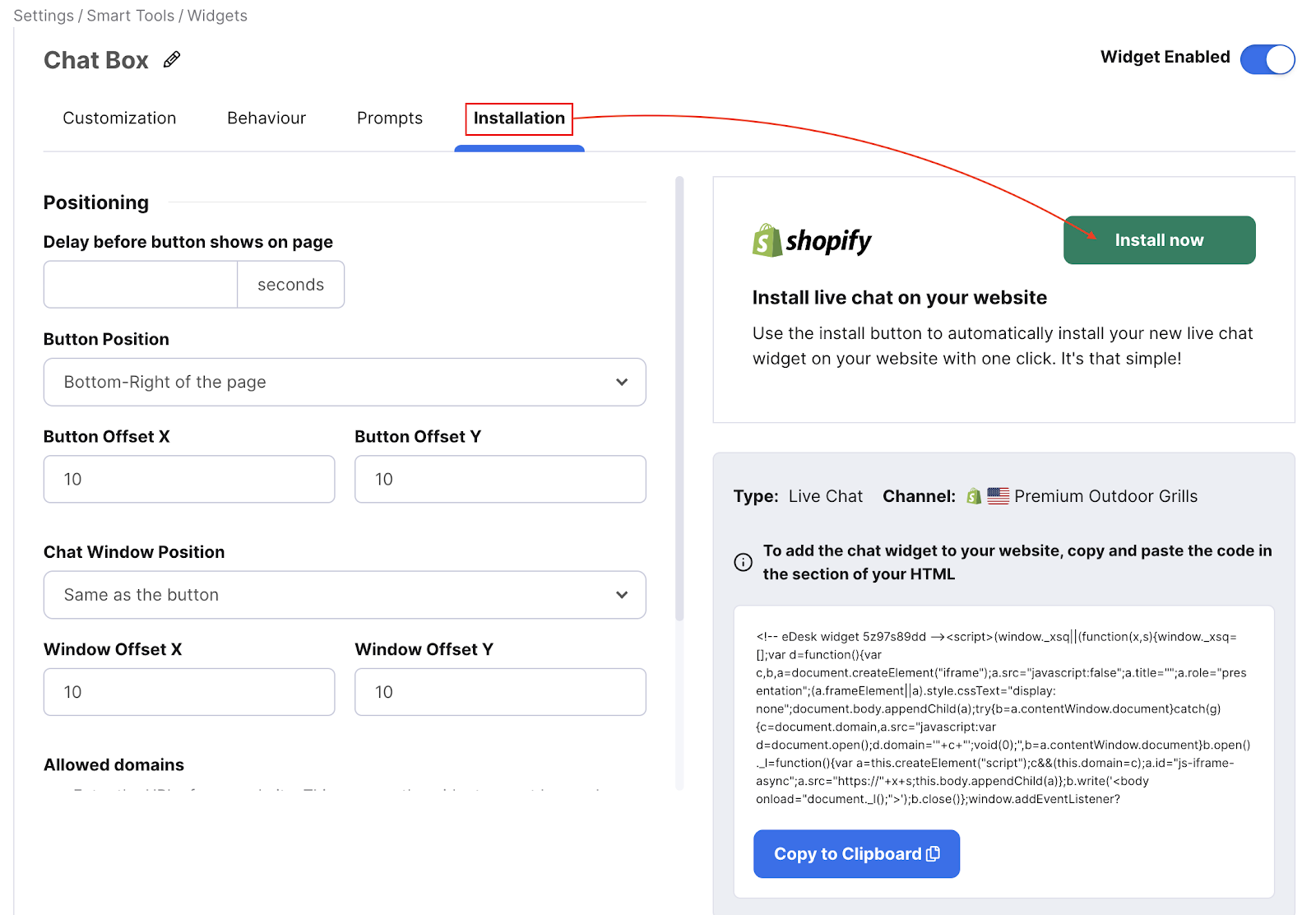 Once you have your Widget set up with the desired Shopify store, clicking on
Install Now
will allow you to automatically install your new live chat widget with one click. 
Note: 
The Widget Enabled slider above needs to be activated for the Chat to appear on your website. 

At least one agent must be online for the Live Chat option to appear on your website. Otherwise, a website contact form will appear instead. 
Keep in mind that if you want to edit your widget, you can always deactivate it with this simple
Widget Enabled
slider. Then, once you are happy with your changes you can reactivate it.
---
Further Readings 

If you want to find out more about Troubleshooting your Live Chat Widget, click here. 

If you would be interested in learning more about Proactive chat, click here.