Link your ChannelEngine account with eDesk to access your channel's order data with a single click and create smart workflows around this data.
How to connect with ChannelEngine 
To add ChannelEngine, go to Settings → Mailbox Settings → Channels. Then click  +Add Channel and select ChannelEngine in the Marketplaces section. Next click Connect eDesk in the Connect ChannelEngine to eDesk Screen.
Step 1: API integration for ChannelEngine: Enter your store name and API Key within eDesk. 
Note: If you need help finding your ChannelEngine API key, Click here to scroll down to the relevant section.
Step 2: Select your channel: Select the ChannelEngine channel you wish to integrate with eDesk.
Step 3: Configure receiving emails: Select whether you want to use basic forwarding (recommended) or IMAP to receive your messages, and add your support email.
Step 4: Support email: Enter the email address for the channel. 
Note: The name you enter is not used in the mail exchange but will be the address shown in the channel settings.
Step 5: Configure sending emails: Select whether you want to use the eDesk email address as the from address or a personalized email address using SMTP - find out more here
How to connect another ChannelEngine channel
If you want to connect to another ChannelEngine channel, you can follow the above steps again from Step 2: Select your channel.
Connecting another ChannelEngine account
If you have multiple ChannelEngine accounts and want to connect another to eDesk, you can follow the following steps. Visit Settings → Mailbox Settings → Integrations, select ChannelEngine, and add the credentials of the account you'd like to connect.
How to find your ChannelEngine API key
The store name can be found in the top nav inside the ChannelEngine account as seen below. 
To find your API keys within ChannelEngine, please go to Settings → Merchant API keys. 
If you need to create a new key API key, go to Settings → Merchant API Keys → Select Add under Merchant API Key.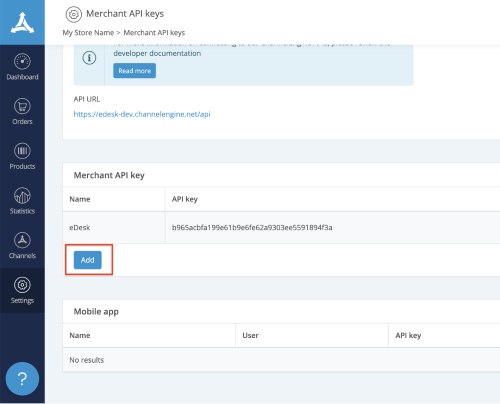 This will automatically generate an API key. Give the API key a name - this is just a label and does not affect the setup. Once created, go back to eDesk and enter the API key to finish the setup.
Finding your Store Name and API Keys in ChannelEngine
What's Next?
Find out how to organize your inbox and with the use of message rules.