ChannelAdvisor is a multichannel e-Commerce platform that supports over 300 channels, most of which are popular online marketplaces. 
Connecting ChannelAdvisor to eDesk will equip you with all the context you need to achieve positive outcomes for your customers.

Returns and cancellations your customers have made will be available alongside customer messages in the ticket view of your eDesk inbox. 

You can also use the eDesk Channel Advisor integration to connect certain additional channels that eDesk doesn't support natively.
---
Before you start
You'll need an Admin login to eDesk. If you don't have an Admin login, you can request one from an Admin user within your business.
You must have a ChannelAdvisor account.
---
01 How do I connect eDesk to ChannelAdvisor?
The App page for ChannelAdvisor provides an Overview of how ChannelAdvisor works with eDesk. Select Install App to go ahead and install your ChannelAdvisor account. 
Select Authorize eDesk.
Next, you'll be redirected to ChannelAdvisor, where you will complete the process. Select Next.

02 Connecting your ChannelAdvisor account
Login to ChannelAdvisor.
Select the client(s) that you want to connect. 
Grant access to eDesk. 

03 Mapping your channels
Now, you'll be taken back to eDesk. You'll see a list of all your ChannelAdvisor channels, and for each one, you'll need to select an option in the
Options
and, depending on your selection, the
Channel Mapping Route
fields. 
This will link up your ChannelAdvisor channels with eDesk channels. We call this process
mapping
.  Read on to find out the 3 different options you can choose from.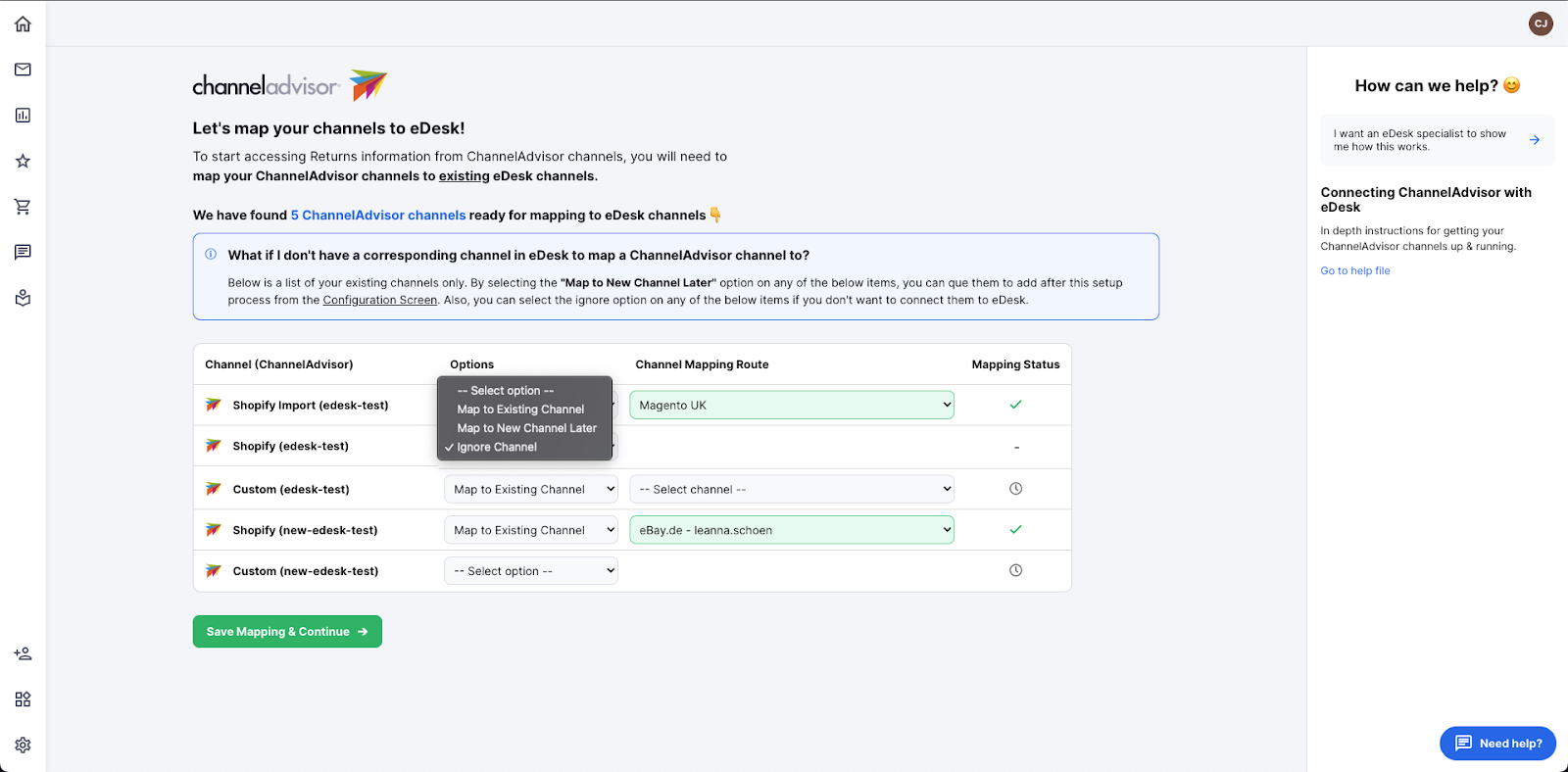 1. Map to Existing Channel
Choosing
Map to Existing Channel
will allow you to see returns and cancellations information (order adjustments) associated with the existing eDesk channel that you select so that your team will have even greater context when they're interacting with customers.   
In the Channel Mapping Route column, select the channel you use for ChannelAdvisor. 
You'll see a green tick in the Mapping Status column if the mapping is successful.
Note:
If you want to select the Map to Existing Channel option you'll need to have already connected the channel in eDesk. 
If you haven't connected the channel yet, you can either complete this step before proceeding or do it later and then visit the ChannelAdvisor configuration page (see section 04).
Pro Tip:
You can see the channels you've connected by going to the
App Store
and selecting
My Installed Apps
.  
2. Map to new Channel Later
This option allows you to connect a new channel to eDesk. If this channel already exists in the App Store then we don't advise connecting this way. Instead, you should connect the channel directly in the App store. 
Important:
You can only connect a single extra channel to eDesk via ChannelAdvisor. This Channel will be called 'ChannelAdvisor'. If you choose the
Map to new Channel
Later
option for more than one of your ChannelAdvisor Channels, they will be combined into a single Channel.
Note:
For non-native channels that you've chosen to connect later, you'll need to go through the normal mail forwarding steps. If you want to learn more about Mail forwarding in eDesk,
click here
. 
Keep in mind
that if the channel doesn't support Mail Forwarding, then you won't be able to manage tickets for that ChannelAdvisor channel in eDesk. However, all is not lost! You can request that eDesk support the channel by creating a Feature Request. Find out how
here
.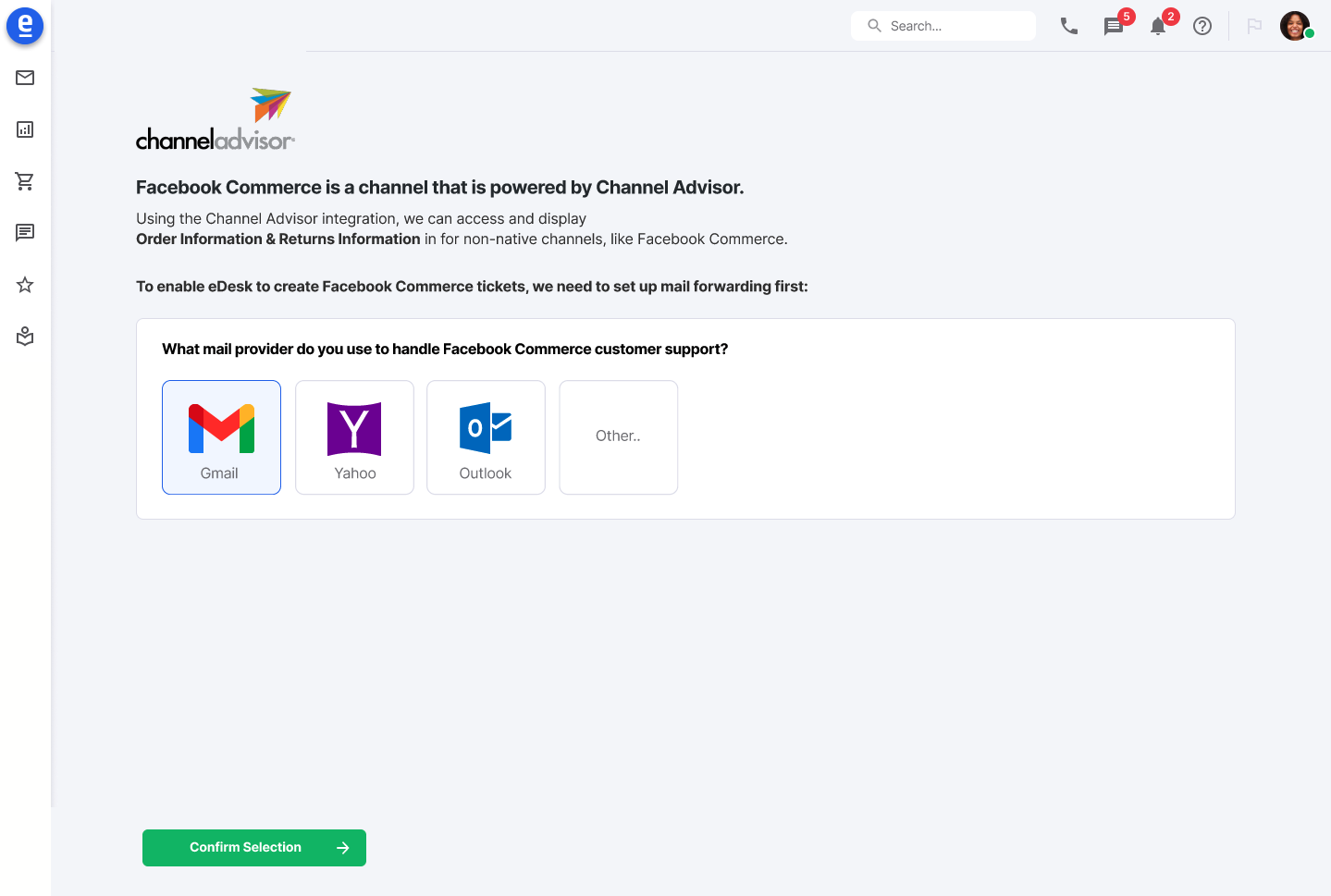 3. Ignore Channel
This option allows you to Ignore a channel. You can always go back to the App Store to connect a native channel to eDesk, and then Map it to an existing channel in the configuration section of the ChannelAdvisor app listing.

04 The ChannelAdvisor configuration page
Once you've connected your ChannelAdvisor account and completed your channel mapping you'll be able to manage any changes you want to make to your mapping from the ChannelAdvisor configuration page in the app store. Go to
App Store
→
My Installed Apps
→
ChannelAdvisor
and select the
Configuration
tab.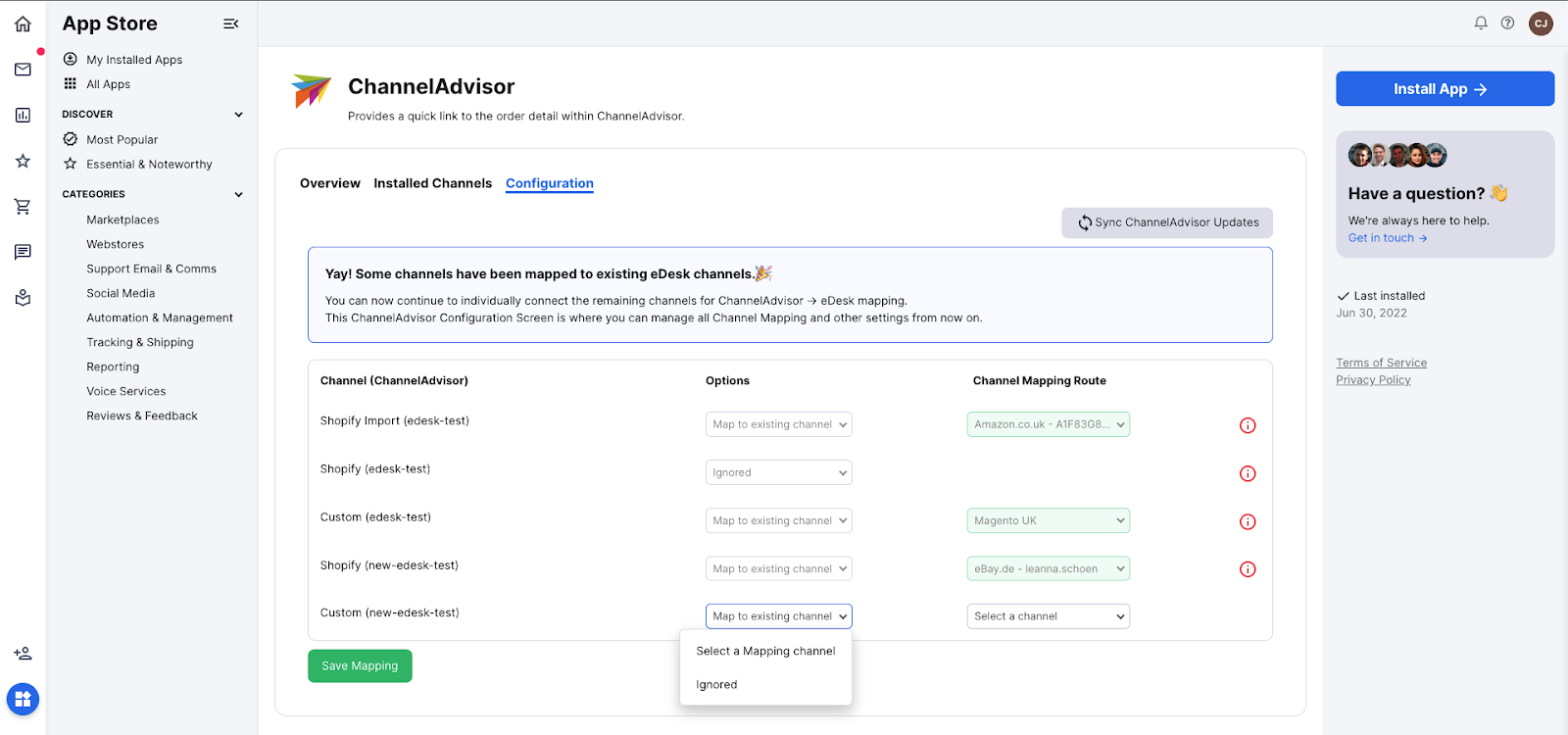 Note:
You can only change your channel mapping settings once every 24hrs.   
05 Where do I see messages from my ChannelAdvisor channels in eDesk?
Now that you've connected ChannelAdvisor and mapped the channels, you'll see a new ticket in the Mailbox for each new customer message. 
Order Adjustments
If a customer places an order and then requests to cancel or return the item, eDesk includes this information in the ticket so that Support Agents have full visibility without having to log into ChannelAdvisor.
You'll see order adjustment information in the following places in eDesk tickets:  
In the message thread in the body of the ticket: 
In the Adjustments tab in the right-hand panel (this tab is shown only if there has been an adjustment): Note: The Save button will only be displayed if you've edited the Shipping label or Tracking number.
06 Editing Shipping label or Tracking number in an adjustment
These are
optional
fields.   
To add a Shipping label, select the Shipping label field and upload a file. 
To add a Tracking number, paste or type the number into the Tracking Number (of available field).
Select Save.
07 How do I reply to my customers in eDesk?
To reply to a customer's message, simply type your response in the
Reply Box
in the eDesk ticket, and they'll receive your response in an email. Your response will also show in the ChannelAdvisor channel.   
---
Further Readings
If you would like to find out more about connecting WhatsApp with eDesk,
click here
.
If you're interested in connecting eBay with eDesk,
click here
.