You can select the Receiving mode for email channels to determine how your want your messages imported in eDesk.

This help file will guide you through the different Receiving Modes available and what they mean.
---
Before you start
You'll need an Admin login to eDesk. If you don't have an Admin login, you can request one from an Admin user within your business.
If you want to edit the receiving mode of a Gmail email, you will need to connect your Gmail using mail forwarding. To find out how to do this, click here.
---
01 Different Receiving Modes
Go to Settings → Mailbox Settings → Channels → select the channel → Mailbox tab → Receiving mode.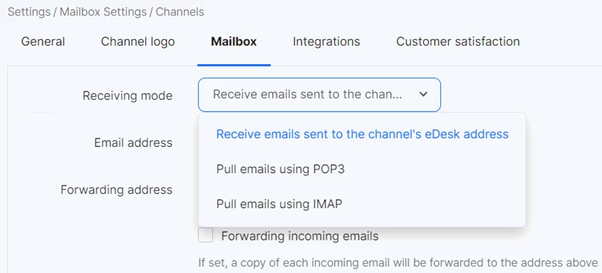 From there, you will see all the sending modes available within your eDesk account.
02 Receive emails sent to the channel's eDesk address
This is the default receiving mode for mail forwarding. It means that when the message is received from your e-mail client (Gmail, Outlook, Yahoo etc.), it will show as coming from the address it was received from.
03 Receive emails using IMAP
IMAP (Internet Message Access Protocol) is an alternative way to receive emails in eDesk. It means that instead of forwarding messages from your e-mail client, you are authorising eDesk to access your email client directly.

In order to use the IMAP receiving mode, you will need access to your IMAP credentials. Your IT team should be able to provide you with this information.

04 Receive emails using POP3
POP3 (Post Office Protocol) is an old version of IMAP and not recommended. If you would like to connect your email using POP3, we recommend you contact us directly to discuss.
The From name and email address will show as My Company.
---
Further Readings

If you wanted to learn more about Sending modes, click here.

Interested in finding out more about Mail forwarding? Click here.