eDesk Talk is a simple phone solution for small support teams to enable them to provide call support to their customers without having to invest in an expensive complicated phone solution.
This help file will guide you through how you can make, answer or decline a call via eDesk Talk.
---
Before you start
You'll need an Admin login to eDesk. If you don't have an Admin login, you can request one from an Admin user within your business.
 
You'll need to have eDesk Talk setup in your account. To find out how to do this, click here.
---
01 The eDeskTalk pop-up
Clicking on the phone icon on the left hand navigation will open the dialer in the same window containing the eDesk Talk pop-up screen. This is where you will make and receive phone calls.

03 Receiving a phone call
When a call comes in, the caller will receive a generic computer-generated welcome message Thank you for calling, you'll soon be connected to a customer support agent. Music will also be played while eDesk Talk routes the call. Call routing takes less than 30 seconds and the call is routed to the next online agent in round-robin format. To find out more about call routing, click here.
The agent receiving the call will see the phone icon on the left-hand navigation flash green and hear the ringtone on their device. Upon clicking on the green flashing phone icon, the dialer will open in the same window. The agent will need to press the green call button to start the call, or the red call button to decline .


During the call, the agent has the option to create a ticket about the call. The ticket contains a log of the call.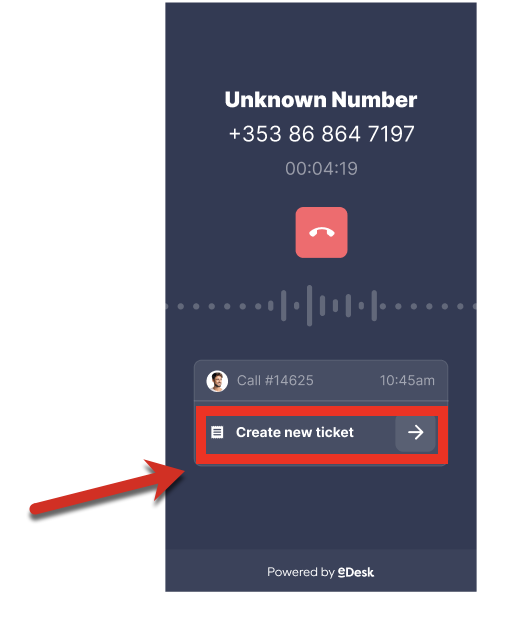 The agent can also create a ticket as soon as the call ends.
Important: This is the agent's last chance to create a ticket from the call. If they close the call window without creating a ticket, then there won't be a ticket for this call.


Once a ticket has been created, the agent can click the arrow to open the ticket in the Mailbox.

04 Making a phone call
Within eDesk, you can make phone calls via the dialer on the eDesk Talk pop-up.
To do so, click on the phone icon in the left-hand navigation and manually type the number you want to reach. To make the call, press the green phone icon then.
05 Voicemails
If your team misses a call, the caller has the possibility to leave a voicemail. It's then very easy to retrieve this voicemail in your eDesk mailbox within the ticket automatically created for this particular call.

---
Further Readings

To find out more about using eDesk Talk, click here.
Interested in learning about eDesk Talk troubleshooting? Click here.