Connecting Gmail to eDesk couldn't be easier. In this guide, we will look at how to connect your Gmail account in eDesk in 5 seconds using Google OAuth or, if you'd like, you can do it via email forwarding.
---
Before you start
You'll need an Admin login to eDesk. If you don't have an Admin login, you can request one from an Admin user within your business.
You'll need a Gmail account. To find out how to create one, click here.
---
01 Google OAuth Integration
To simplify your integration with Gmail within eDesk, we've added the option to authenticate using Google OAuth, making it easier for you to connect in a few easy steps.
1. Start by navigating to the
App store
in the bottom left of your screen in eDesk and search for Gmail. Click on it.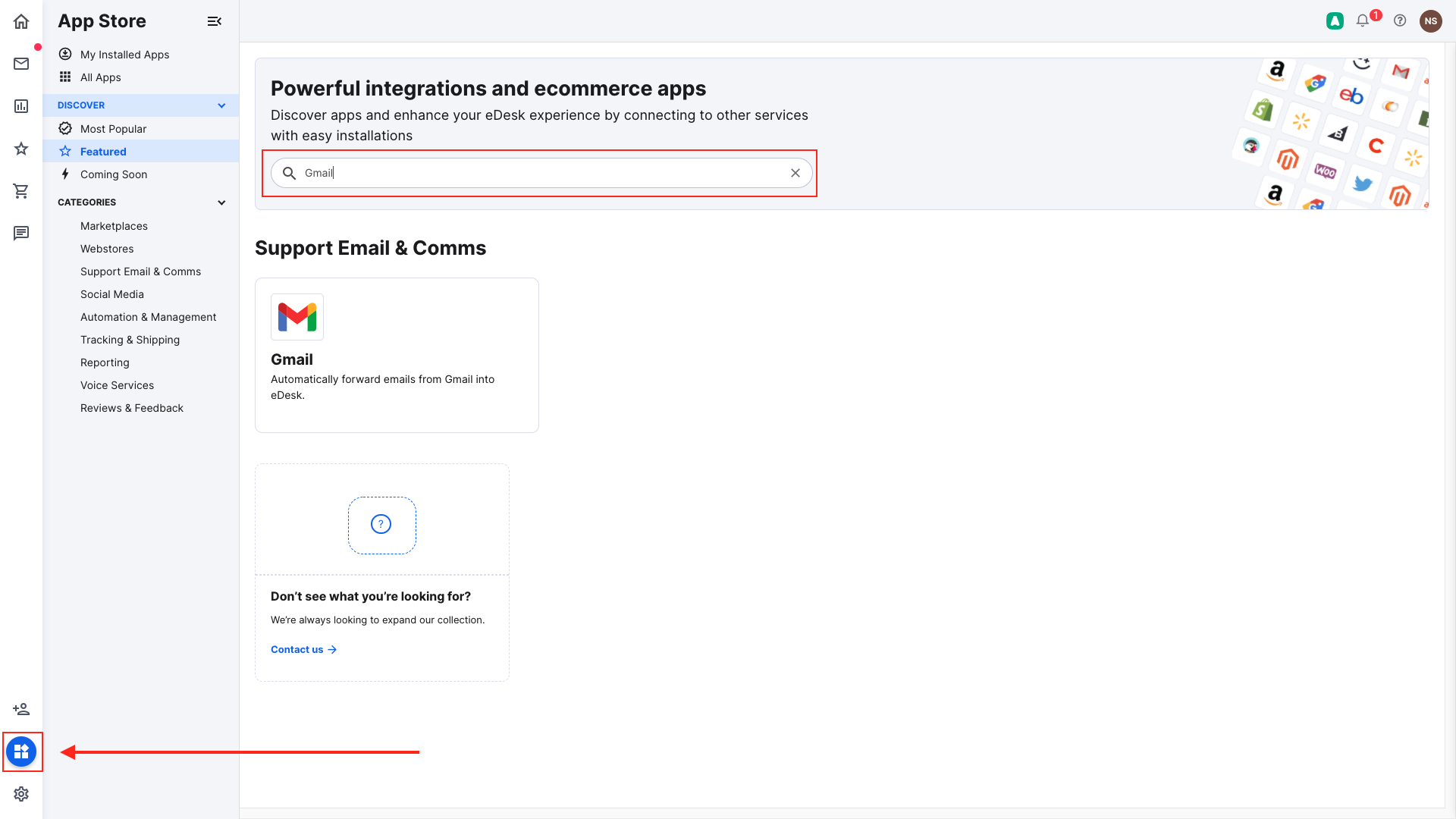 2. Click on
Install App
on the right-hand side to start the integration.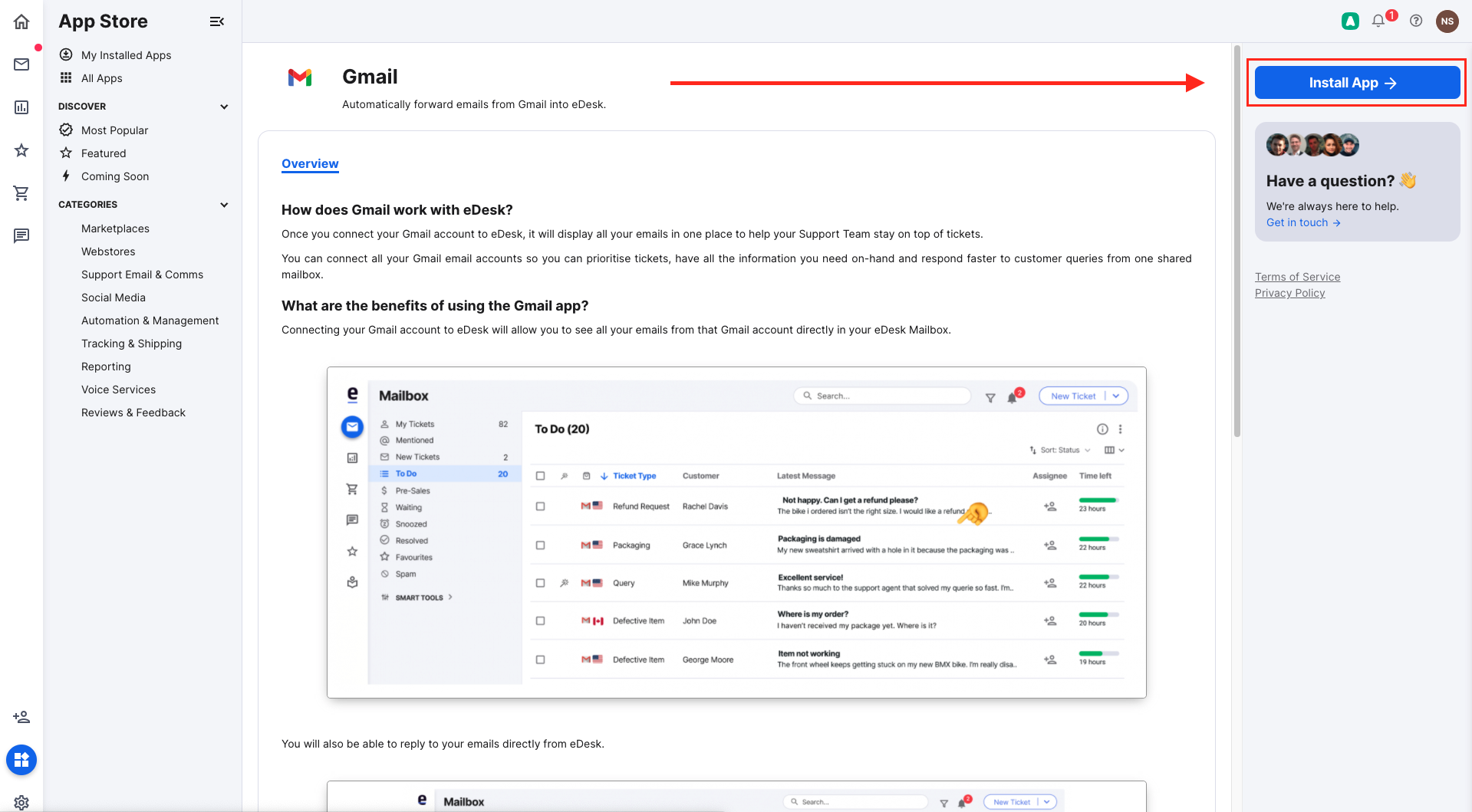 3. After that, click on
Authorize eDesk.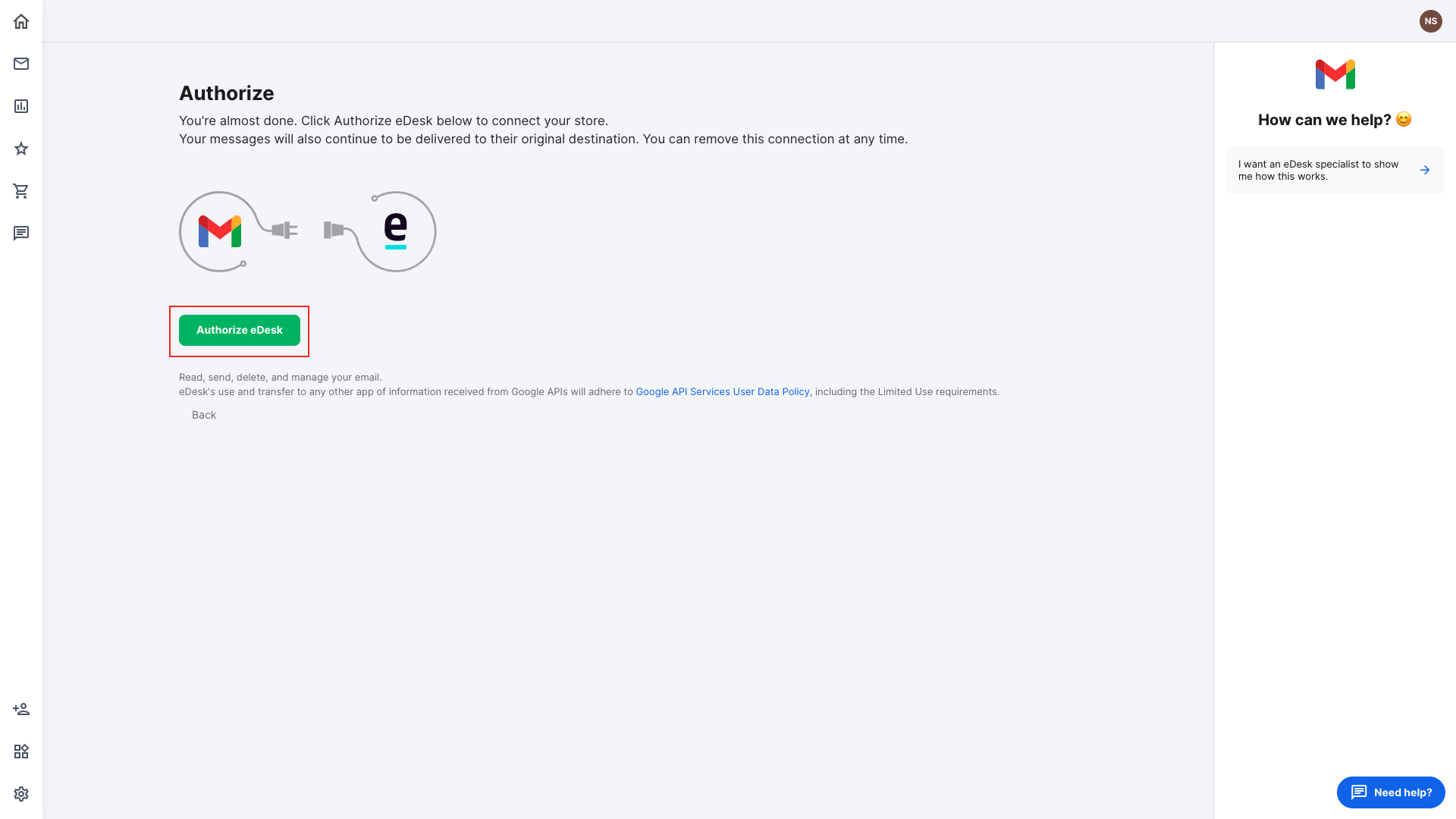 You'll see this screen below asking you to choose an account to continue to eDesk. Select the desired account and enter your details.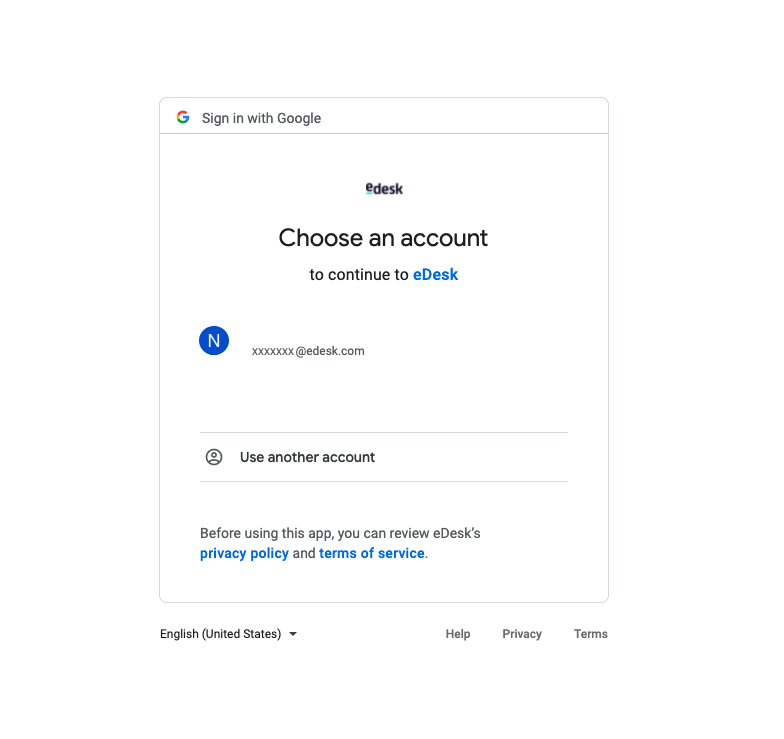 You're almost there.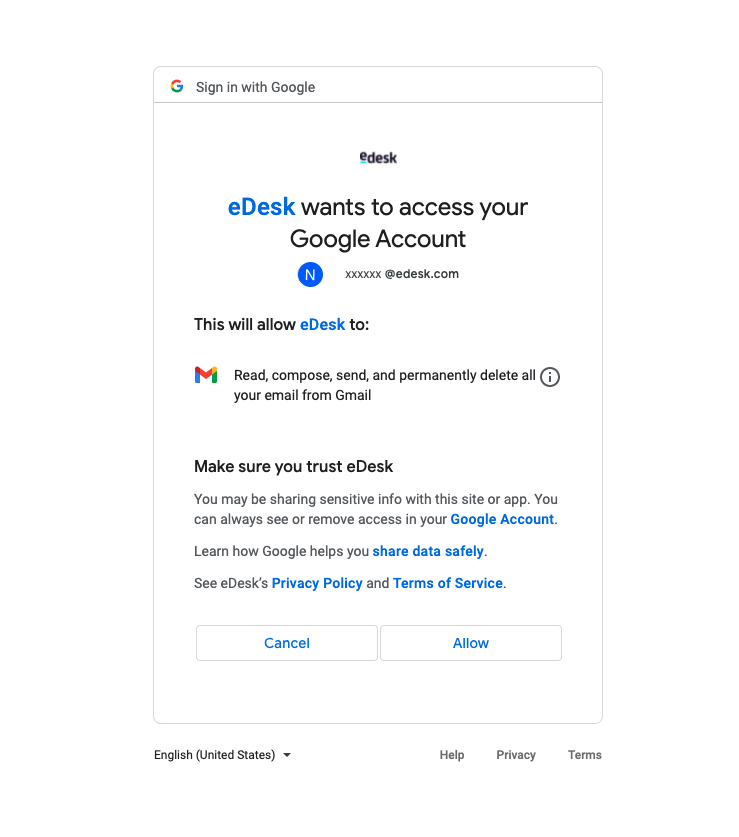 Once set up, you'll now be able to receive and respond to your Gmail customers in eDesk.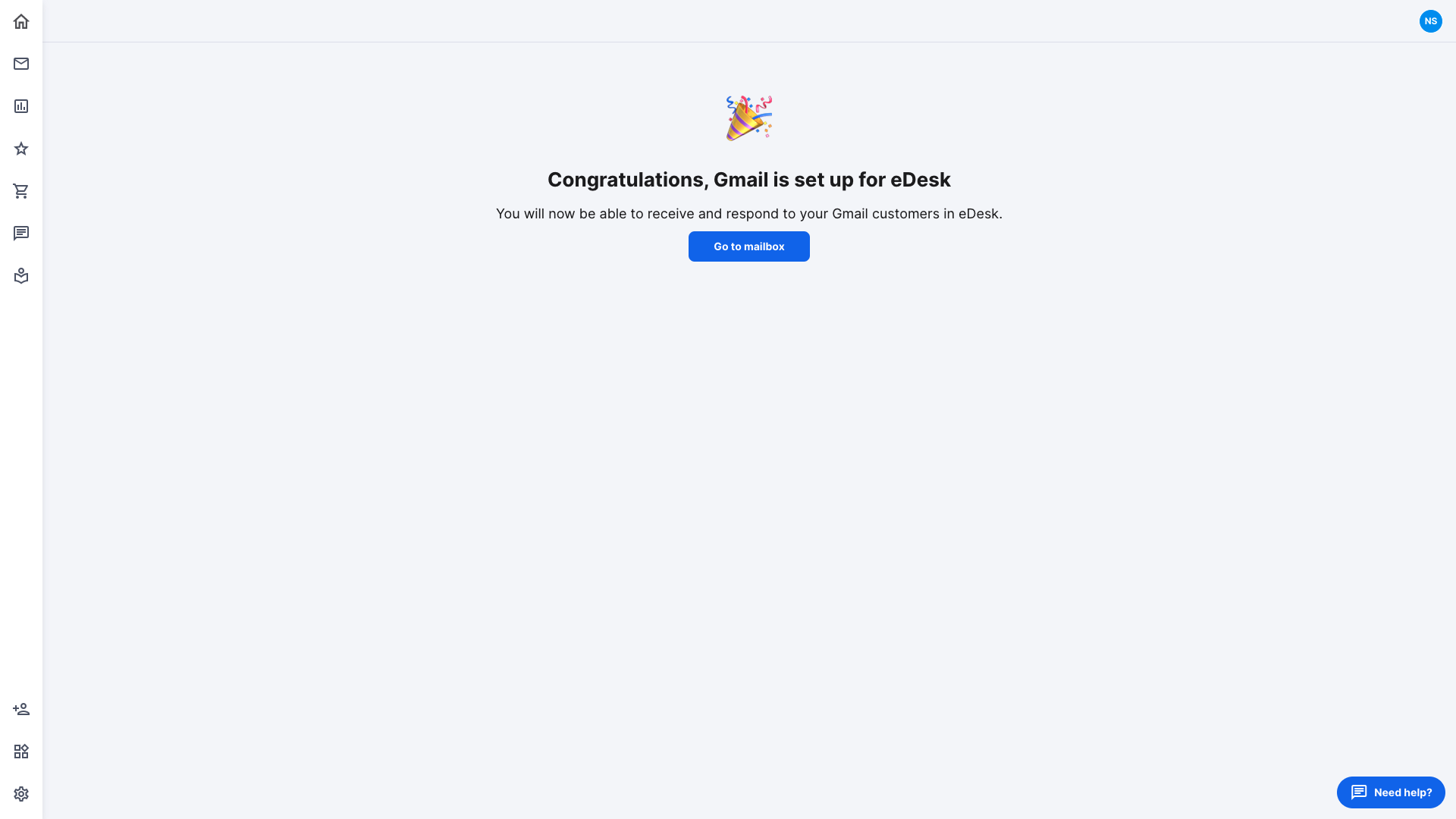 02 Adding a Forwarding address
1. Log into your Gmail account.
2. Select the
Settings
cogwheel on the top right-hand side of the screen and click
See all settings.
3. After that select the Forwarding and POP/IMAP tab and click on Add a forwarding address.
4. If you want to forward to eDesk, copy your unique eDesk email address and paste the it into the field in Gmail. Then click Next. 
5. You will then see another pop up stating A confirmation code has been sent to xxx@xxx.com to verify permission.
6. If you have added an eDesk address, you will receive an email from Google in eDesk with a confirmation code. 
7. Copy the confirmation code displayed on-screen and paste it into the highlighted field in Gmail. Click Verify.
8. Once this is done, select to Forward a copy of incoming mail to and select the eDesk email address from the dropdown.
9. There is also an option to select what happens the ticket inside Gmail after it has been forwarded to the address.

Note: If you have one generic email address for all messages and don't want every single message to forward to eDesk, you can set up Filters inside Gmail.
10. Once you setup your Mail forwarding wtih Gmail, click on Save Changes at the bottom of the screen.
03 Creating a Filter
1. Select the Settings cogwheel on the top right-hand side of the screen. 
2. After that select the Filters and Blocked Addresses tab and Create a new filter.
3. Enter the details of the emails you would like to 'catch'
4. In the above example: any email that has @shopify.com in the From address AND has the word 'Order' in the subject will match your filter
5. Click Create filter
6. A pop-up will appear to select what happens to the messages that match the filter.
This will allow you to forward only certain messages to eDesk.


Note: if you're experiencing issues with Gmail forwarding at any stage, you can consult this Troubleshooting help guide.
 
---
Further Readings

If you would like to find out more about Mail Forwarding with eDesk, click here.

If you would be interested in learning more about Outlook Forwarding with eDesk, click here.