Connecting Gmail to eDesk couldn't be easier. In this guide, we will look at how to connect your Gmail account in eDesk in 5 seconds using Google OAuth.
---
Before you start
You'll need an Admin login to eDesk. If you don't have an Admin login, you can request one from an Admin user within your business.
You'll need a Gmail account. To find out how to create one, click here. 
---
​​​​​01 Connecting Gmail

1. Start by navigating to the App store in the bottom left of your screen in eDesk and search for Gmail. Click on it.


2. Click on Install App on the right-hand side to start the integration.

3. After that, click on Authorize eDesk.


You'll see this screen below asking you to choose an account to continue to eDesk. Select the desired account and enter your details. 


You're almost there! 
02 Selecting Gmail Folders to sync to your channel 
1. Once you authorize xSellco's access to your Outlook, you'll see a page that says "[your email address] is now connected to an eDesk channel. Please select a folder to connect to the channel [your email address]".


2. Select the Source folder field and choose the appropriate Gmail folder for the channel you want to connect, e.g. Important. Any folders that you have already connected will be greyed out.


Pro Tip: If you haven't already created the folder in Gmail, you can do it now and then refresh this page to see the new folder in the list.

3. Select Finish Setup.

Once set up, you'll now be able to receive and respond to your Gmail customers in eDesk.

03 What if I have already connected Gmail and now want to connect/change my Gmail folders?

The receiving mode will have changed to Google App, which means you can go into the channel settings and select a Gmail folder from the drop down by doing the following: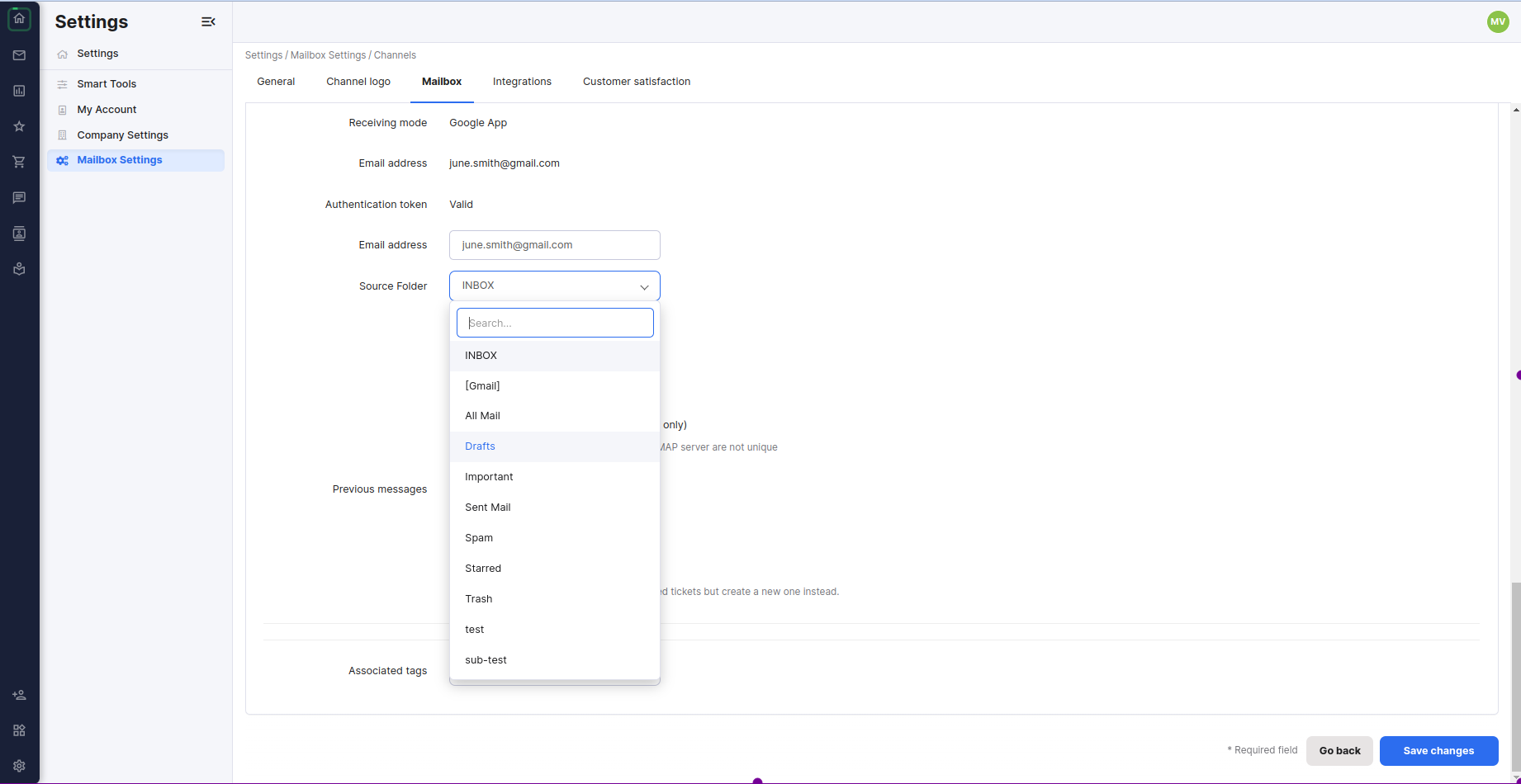 Go to Settings > Mailbox Settings > Channels.
Click the channel that has your Gmail email address in the Title column.
Select the Mailbox tab and scroll down to the Source Folder.
Select the Gmail folder you would like from the drop down to connect to this channel.
Click on Save Changes.

Your channel should now be connected to the selected folder.
 
---
Further Readings

If you would like to find out more about Mail Forwarding with eDesk, click here.

If you would be interested in learning more about Outlook Forwarding with eDesk, click here.