Discover the eDesk App Store, our simplified app installation flows, and check out the dark mode and other cool new mailbox features!

In our most recent eDesk update, we added an App Store to gather all eDesk-compatible apps in one single place! We also streamlined our entire 'channel add' process, making it easier for customers to connect platforms. Last but not least, we released a dark mode and a bunch of cool features to improve the mailbox interface!

1. The eDesk App Store
Previously in eDesk, it was only possible to view all the compatible integrations via the channels screen which was both counterproductive and not really user-friendly. "One of our USPs as identified by competitor analysis and customer feedback is the sheer number of integrations available to our users" revealed Clodagh Callan, Product Owner at eDesk. 
"That's why we decided to leverage this USP by surfacing it within the product via an App Store. We're also planning to make the App Store public to publicize the integrations available to users with a view to drawing them into the product." 
Here's a sneak peek of the brand-new App Store available in your eDesk account:

Benefits of the App Store in eDesk
You get easy access to all the apps available with eDesk and they're displayed into relevant categories.

The screen shows you at one glance what apps are already installed in your account.

There's a quick description of what each app does and what are the benefits of using it.

You can suggest a new integration if the one you're looking for isn't available right now.

To learn more about our brand new App Store in eDesk, click here.

2. New 'channel add' flows
Beforehand, there was limited assistance provided when linking channels in eDesk. With our brand new updated onboarding flow, you can watch a help video, consult a help file or request help from the Support Team directly on-screen:
When setting up more complex apps, we've also added detailed step-by-step instructions and screenshots:
Benefits of the new 'channel add' flows in eDesk
You get access to help directly on-screen if necessary (video, help file, or Live Chat).

We display detailed step-by-step instructions and screenshots to help with smooth onboarding.

On the top of each screen, we give you some context to help you understand what each onboarding step helps you achieve in eDesk.
To learn more about our brand new onboarding process in eDesk, click here.
 
3. Other new cool mailbox features
Dark Mode [Estimated release date: July/August 2021]
You asked, we delivered! Introducing a dark theme in eDesk was the highest UI-related customer requested feature, we're delighted to share with you that this new option is now available in your account.
Within your Profile preferences in eDesk, you will be able to choose between a Light or Dark theme for your account:

To learn more about this new feature in eDesk, click here.
Until now, it wasn't possible to quickly identify tickets that had been opened or not within your mailbox.
The newly released Read/Not Read feature highlights the difference between tickets that have been read (physically opened) by an agent. Unread tickets now have a white background with bold text whilst Read tickets have normal text with a grey background: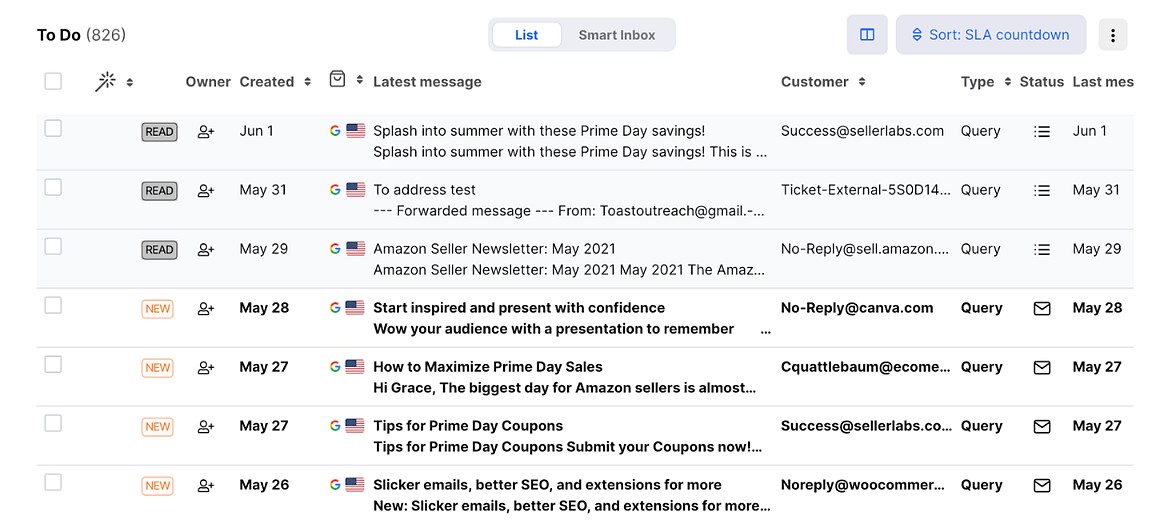 Got an idea?
As always, I'm very proud to showcase our team's amazing work in this monthly product update! At eDesk, we work very hard to continuously release improvements and powerful features to help you deliver 5-star customer service! 
We really hope you'll enjoy all the new features! If you have suggestions for future releases, send them here. Any feedback or questions? Feel free to reach out to us directly!