Discover our brand-new WhatsApp integration, Customer View and native voice integration: eDesk Talk!
Going into the festive season, it's so important to remember that every sale you make is more than a one-off transaction, it's an opportunity to build a lasting, loyal and profit-growing customer base that repurchases and advocates for your brand. To continue improving eDesk and our award-winning unified inbox, we released 3 major new features towards the end of the year.
01 WhatsApp
We released a full WhatsApp integration that allows brands to connect with their customers on the world's most widely used messaging app with over 2 billion users.

Customers get to contact brands in a convenient, familiar way, while brands gain the ability to prioritize, assign and reply to all WhatsApp messages from their eDesk mailbox. It's a win-win
Features of our brand-new WhatsApp integration
With this new integration, you can:
Auto-assign WhatsApp messages to agents:
Eliminate repetitive tasks and fairly distribute conversations to the support team, with the convenience of eDesk automations.

Auto-translating WhatsApp messages:
Engage and delight customers, from any country, in any local language. Grow international without having to hire multilingual agents.

Business Insights:
Our Enhanced reporting tools help business owners and leaders like you to have full visibility of their WhatsApp message volume, team performance, workload and growth.

Notes and Tags:
Enhance team collaboration with our Notes feature and help your agents to classify WhatsApp messages with Tags, keeping their workload organized.

Live chat-to-WhatsApp:
Engage with your webstore visitors and offer them the option to chat with your team on their favorite messaging app as well.
To find out more, click here.
02 Customer View
We also added a brand-new Customer View that provides a holistic view of your customer within eDesk, turning every customer interaction into a growth opportunity!

Customer View brings customer details, past interactions and purchasing history together in one place so that agents can deliver better and more personalized experiences, and businesses can understand their customers' buying patterns in a more meaningful way.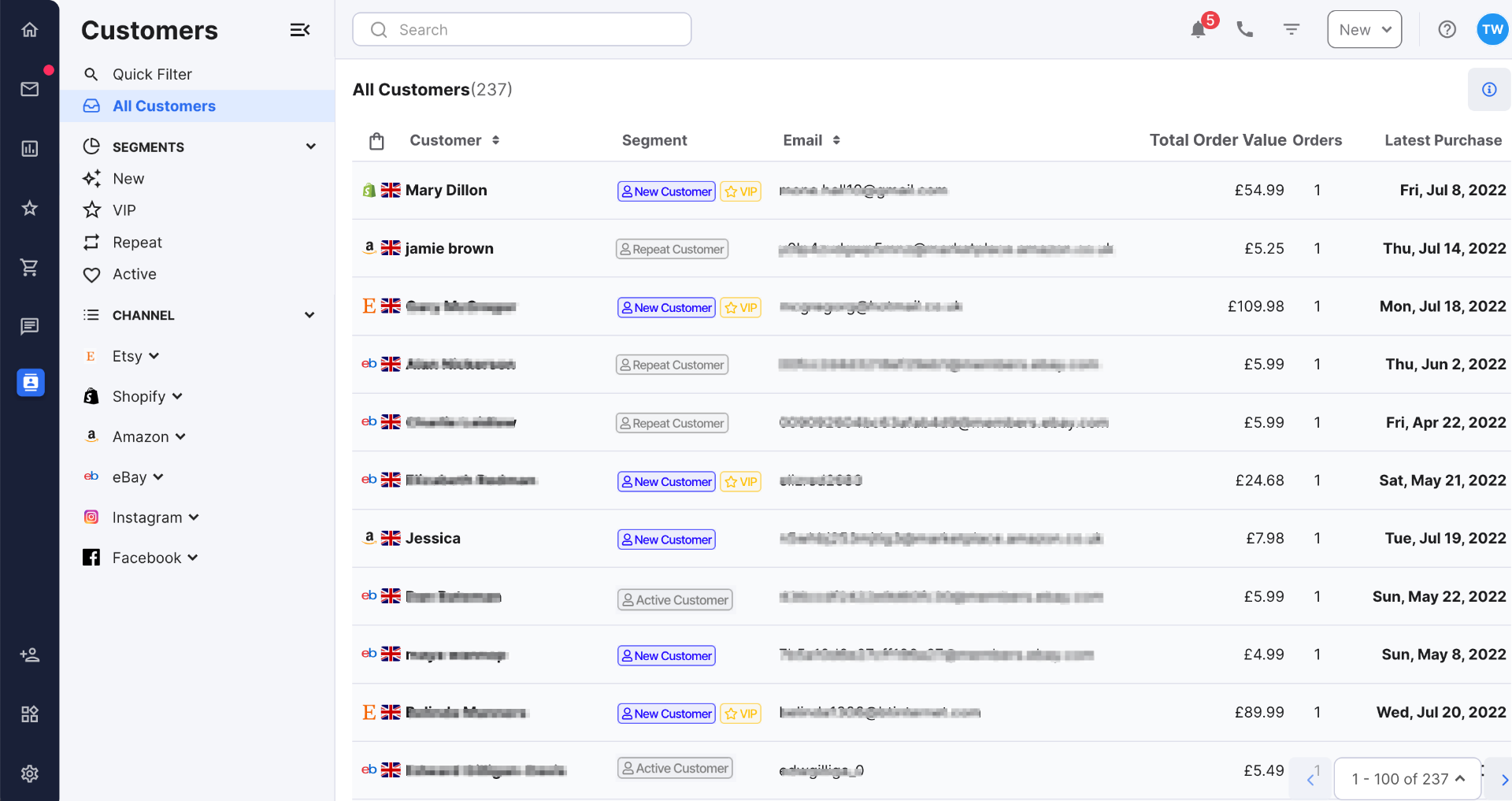 Features of our brand-new Customer View
On this new screen, you can see:  
Segments:
Know who your contacts really are with 6 out-of-the-box eDesk segments that automatically classify every single contact to identify VIP customers, or help further personalize your service.
 
Sentiment:
AI-powered function that identifies the mood of your customers and helps your team tailor their interactions to deliver messages that delight.
 
Improved sidebar:
New contact details such as Total Order Value, Segments and the date in which the customer made their first  purchase are now available on your sidebar.
 
New conditions in Rules:
Use our new customer insights – Segments and Sentiment – to build effective and efficient workflows.
With full customer context, your support agents can provide fast, accurate and personalized service. Leverage customer intelligence and turn every customer interaction into a growth opportunity.

To find out more, click here.
03 eDesk Talk
Last but not least, we released our very own native voice support eDesk Talk provides your customers with reliable personal phone support, without you having to pay for complex phone system.
It's perfect for small and medium businesses and allows for easy eDesk mailbox collaboration. The best part is that you can get your team setup and start answering calls on your own dedicated phone line in 1 minute.
Features of our brand-new eDesk Talk
With eDesk Talk, you will have access to:  
A phone number for your webstore
Get a local* or international phone number and start talking to your online shoppers, unlocking great upselling opportunities and delivering fast support. *Note: eDesk Talk currently only supports US, UK and Canada phone numbers.
 
Unified inbox with automated ticket creation
All calls and voicemails are automatically tracked via tickets in the eDesk mailbox, unified with all other sales and support channels, so you have a full perspective on what needs action.
 
Greeting messaging
A standard and warm welcome message to greet every caller.
 
Agent Status and Call routing
Route calls to your available team with our round-robin ring strategy and fairly distribute customer queries to your support team.
 
Hassle-free set up
Choose a phone number, set your users permission and add phone support to your store in under 5 minutes.

To find out more, click here.
Got an idea?
As always, I'm very proud to showcase our team's amazing work in this monthly product update! At eDesk, we work very hard to continuously release improvements and powerful features to help you deliver 5-star customer service! 
We really hope you'll enjoy all the new features! If you have suggestions for future releases, send them here. Any feedback or questions? Feel free to reach out to us directly!